Become a Committee Member!
If you are interested in being involved in the planning and organizing of the annual Melbourne Art Festival, become a member of our all-volunteer Committee. As a Committee member, you'll work with a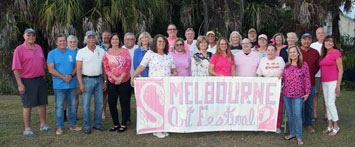 fun and dedicated group of volunteers and help us put on a fabulous Festival.
Our committees include: Advertising & PR, Artists, Beer/Wine, Concessions, Directory, Entertainment, Finance, Food Court, Grants, Headquarters, Ice, Judges, KidsWorld, Oasis, Photography, Production, Recyclables, Scholarship/Auction, Security, Signs, Sponsors, Statistics, Workshops, T-Shirts, Volunteers, Waste Management and Website.
We need all types of enthusiastic volunteers whose skills and talents will be put to good use!
Committee members are required to attend at least 50% of the general meetings or their chosen committee meetings. General meetings are normally held Wednesday evenings at the American Legion Post 81, 2909 S. Harbor City Blvd in Melbourne from 6:00 PM - 7:00 PM.

Become a Weekend Volunteer!
For those of you who feel being a committee member is not the level of commitment that interests you at this time, and just want to help for at least three hours the weekend of the Festival, you are welcomed as a Festival Weekend Volunteer. Just let the Volunteer chairperson know at a meeting or e-mail mafinfo@melbournearts.org.
Weekend volunteers, please report in at the Volunteer Tent when you arrive; see the Site Map for the check-in location. Thank you!
2022 - 2023 MELBOURNE ART FESTIVAL MEETING DATES
COMMITTEE MEETING DATES:
All Committee meetings are generally held the 2nd Wednesday of the month at the American Legion Post 81, 2909 S. Harbor City Blvd beginning at 6pm until January, meetings are weekly after 1/11/2023.
Weekly meetings begin Wednesday, January 11, 2023.